Agora Group regularly communicates its environmental projects and activities among the employees, for example through newsletters and intranet messages.
One such good practice was the installation of a smog detector on the building of Agora in Czerska 8/10. It allows the employees to check air quality in the area (information on: https://airly.eu/map/pl/#52.20376,21.04814,i8892).
ENVIRONMENTAL MEASURES IN 2019 INCLUDE:
DRINK TAP WATER
71 thousand

plastic bottles were eliminated annually by transition to tap water, which translates into waste reduction by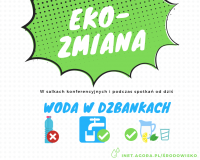 Bottled water in conference rooms was replaced by tap water served in glass jugs. This eliminated 71 thousand plastic bottles per year, which translates into 1.5 tons of waste. Plastic waste volume was also reduced by replacing disposable plastic cups and stirring rods with paper cups and wooden rods.
COMMUNICATION AND PROMOTION OF ECOLOGICAL BEHAVIOURS AMONG EMPLOYEES:
15.5 thousand

bike rentals and returns to Agora Veturilo station in 2019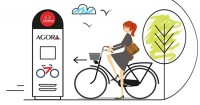 drink tap water (gadgets for new employees)
selective waste collection is regularly communicated among the employees
incentives for employees buying coffee or tea in Gazeta Cafe
use environment friendly transport to come to work, e.g. bicycle (employees can use a bicycle parking lot and a Veturilo bike rental station – over 15.5 thousand rentals and returns of city bikes
collection of used batteries and light bulbs
regular clothes swaps and collections
foodsharing programme for employees